If any manufacturer is seeking to improve its products and increase sales, it could very well decide to emulate the Honda Civic model.
This car never lost its popularity, even when the 2012 version came on the market and several had some criticism to say about it. Two years later, Honda Civic has just completed its 16th year at the top of Canadian sales thanks to Honda correcting these small flaws and improving fuel economy and performance.
Last year, Honda has rectified the visual aspect by redrawing the silhouette of the next generation Honda Civic. Some felt it was too bland, and the Japanese manufacturer has quickly taken care of the situation. The interior has also been revised to improve the dashboard design and the overall finish. I must say that it all worked since the 2014 Honda Civic has great looks, inside and outside. This is a car that has personality, and it is much less drab looking than previous models, and many of its rivals.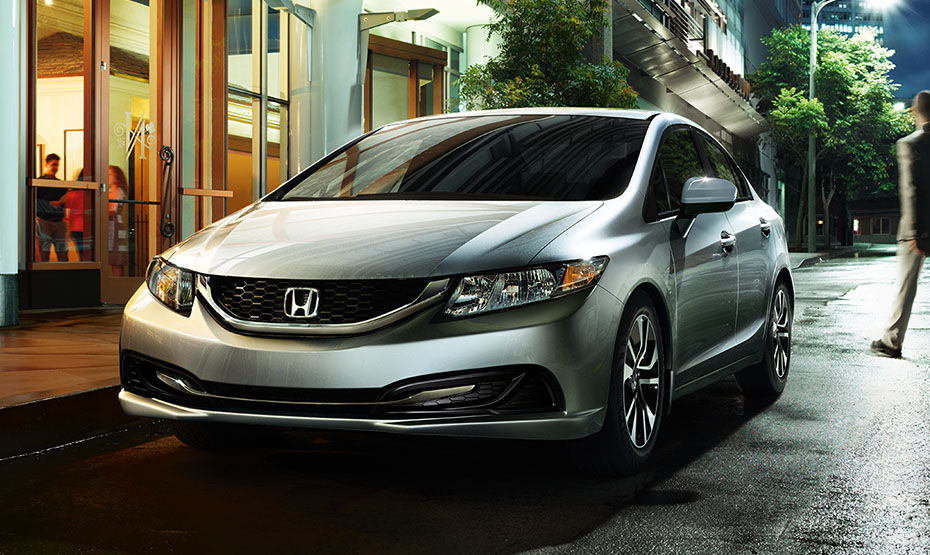 Inside, one comes to the same conclusion since the interior is constructed with soft-touch materials that could well be found in a more expensive car. We love the central touch screen offered from the LX sedan and EX coupe onward. It adds a modern touch to the whole while being easy to use.
The interior of the 2014 Honda Civic proves spacious in front and even larger passengers will have no trouble sitting in the Civic for several hours. In the sedan, the rear seat is more welcoming than the previous model, while the trunk has 350 liters of advertised cargo space, which is an above average volume for this segment. The Honda Civic coupe obviously offers less space in the rear, but the trunk still remains usable in everyday life.
It is under the hood that one finds the most significant changes in the 2014 model-year. Indeed, the 2014 Honda Civic now has an optional continuously variable automatic transmission that replaces the 5-speed automatic transmission. If many do not like CVT transmissions, the Civic's deserves to be recognized for its fluidity and ability to successfully develop engine performance, something that several transmissions of this kind are unable to do.
Those who prefer to shift speeds themselves may opt for the standard manual 5-speed transmission. Both these transmissions carry the power of a four-cylinder 1.8-liter engine, developing 143 horsepower this year, to the front wheels. Meanwhile, torque is 129 lb-ft and allows for easy accelerations and overtakes. Actually, this engine, especially with the CVT automatic transmission, offers the perfect combination of performance and fuel economy with an average fuel consumption of 6.0 liters per 100 kilometers.
Come try the new 2014 Honda Civic at Repentigny Lallier Honda today!